1810 Will of Robert RAYNER (1735-1813)
I am still on a Family History line here with the last of the Wills of which I have a copy of and can write about.
This Will is by Robert RAYNER (1735/6–1813) written on the 21 Jul 1810. He had been widowed twice. This creates a little mystery. I have mentioned before that the names of the Halstead RAYNERs are frequently repeated and it was not until 1813 that more detail was given on the parish BDM's which helped to reduce the confusion in identifying those names recorded. In this case, Robert's wife Elizabeth WINTERFLOOD had, according to the Will, died by 1810. Yet the only death record I have for an Elizabeth RAYNER, around this time, is for 1812! Something odd which may never be resolved.
The records are very poor for the early to mid 1700's. I cannot find a record for Robert RAYNER's first marriage. That it happened is proven by the fact that he has two surviving children born of his first marriage, Elizabeth 1762 and Hannah 1764. He married secondly in 1768 and then had eight more children by 1780 and a last one about 1785 – given that the records were right of course.
He listed his four surviving daughters in his Will which was a great help to the researcher as follows:
Elizabeth RAYNER (b 1762), widow of John GOSLING. They had married on 02 May 1783 but by 1810 according to the Will of her father she was again a Widow, The marriage was at St Nicholas in Colchester and I have yet to find the date of his death. Elizabeth had already been widowed following her first marriage to Edward KIBBLE at St Andrews parish church, Halstead, on 03 Oct 1780.
Hannah RAYNER, (b 1764), wife of Henry PAGE, (no further information found)
Anne RAYNER, (b 1772), wife of John BROWN of Woodham Water (sic), Essex, husbandman. They had married in Coggeshall, Essex, on 09 Dec 1803. and :-
'Hettar' (sic) (Esther) RAYNER, wife of John NEWMAN of Kelvedon, Essex. Esther was born about 1785 and was married on 01 Jan 1805 at Kelvedon, Essex. (no further information)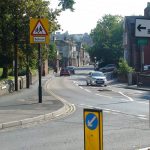 As Robert only mentioned his four surviving daughters we have to presume at least six other children died as infants. In the ten years from 1770 to 1780 children's deaths were often recorded only as 'child of ' then the parental name.
A witness to his Will was an Elizabeth GOLDSTONE. I was able to find her birth.
The search for this family, through the records I have made, brought to light more RAYNER names, from which I was able to add information to 'RAYNERs of Halstead'.
1810 Will of Robert RAYNER  (1735-1819)
In the name of God Amen, I Robert RAYNER of Halstead, in the County of Essex, weaver, being weak in body but of a sound and disposing mind, memory and understanding hereby revoking all other Wills by me made Do make Publish and declare this to be my last Will and Testament in manner following (that is to say) I give devise and bequeath all my real estates whether freehold or copyhold and also all my goods, chattels and personal estate and effects whatsoever and wheresoever and of what nature kind or quality soever unto Henry Page my executor (hereinafter named)in the parish of St Leonards in the town of Colchester in the County of Essex, Gardinor (sic) and Innholder, his executors and administrators in trust nevertheless in the first place, to sell, dispose of and convert into ready money all my said real and personal estates and effects and for which purpose and I do by these presence give, grant Will and transfer to my said executor and administrators full power and authority to grant align bargain sell convey and assure the same to any person or persons and their heirs forever in fee simple by all and every such lawful ways and means in the law as to my said executor or to his executors or administrators or to his or their council learned in the law shall seem fit. And after such disposal shall from the money therefrom arising pay all my just debts, funeral expences sic) and the expences of proving this my Will with every charge attending the execution thereof. In the next place after such disposal of my said estates and the deductions aforesaid in trust to divide and pay the net produce therefrom arising between and amongst my four daughters, Elizabeth Gosling, Widow, Hannah, wife of the said Henry Page, Ann, wife of John Brown of Woodham Water(sic) in the said County, husbandman, and 'Hettar' (Esther) Newman, wife of John Newman of Kelvedon in the said County, husbandman in equal shares. And I do declare that the receipts of my said daughters, alone, shall be a full and sufficient discharge to my said executor , his executors or administrators for their respective shares of my said property. Lastly I do hereby nominate, constitute and appoint the said Henry Page sole executor of this my last Will and Testament. In witness whereof I have hereunto set my hand and seal this twenty first day of July in the year of our Lord one thousand eight hundred and ten.
Signed 'Robert RAYNER'
Signed sealed published and declared by the said testator Robert RAYNER, as and for his last Will and Testament in the presence of us, who at his request, in his presence and in the presence of each other have hereunto subscribed our names as witnesses:
Elizabeth GOLDSTONE and unknown others (the page ends before copying their names)